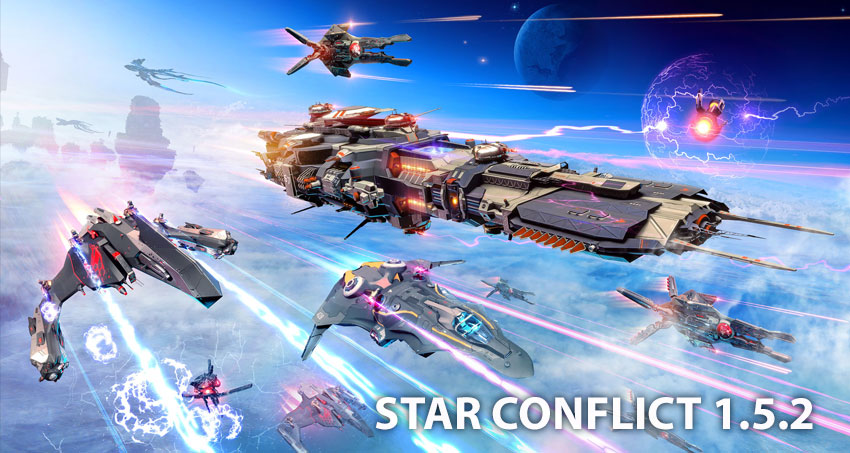 ---
Gaijin Entertainment and Star Gem's space combat action MMO Star Conflict's Fleet Revamp update, which brings with it dozens of new weapons, equipment, spaceships, and special modules, is now complete. The Fleet Revamp update (update 1.5.2), which began with last year's Journey-Update, allows players to dramatically overhaul the performance, abilities, and firepower of each spaceship within their fleet. The update radically increases the number of possible spaceship design permutations, providing players with limitless choices when creating their destructive fleet.
Recon Interceptors have received 10 new combat modules and six new modifiers.

E.g. the Swarm Interceptor can now create a hologram of itself, bewildering both enemy pilots and guided missiles.

Engineering Frigates now also have more than one dozen modules and modifiers.

E.g. the Styx can use the 'Pendulum' module to switch between offense and defense. In offensive mode, the Styx receives a boost to its critical attack chance, and boosts the protection of allies in defense mode.

Both the Recon Interceptors and Engineering Frigates now have access to additional weaponry, including new laser cannons, plasma guns, and nano-drones.
Four completely new top rank ships were added to the game. All of the ships offer impressive offensive and defensive capabilities and are each equipped with a distinct special module to make them even more competent in combat.

E.g. the Spike's Plasma Web, which entangles an enemy ship and deals additional damage if it moves.
To learn more about Star Conflict's Fleet Revamp and get additional information about the ships, weapons, and modules, please visit the official website here.
---
About Star Conflict
Developed by Star Gem Inc, Star Conflict is an action-packed, massively multiplayer space simulation game that puts players in the role of elite pilots engaging in a widespread interplanetary skirmish. The game includes a wide variety of battleships, from light and fast interceptors to powerful fighters and well-defended frigates. Players can choose to go alone or team up with friends to form powerful alliances. The combination of strategic and skill based gameplay in Star Conflict allows players to develop their abilities and establish specialized skills. Official website: http://star-conflict.com/
About Star Gem, Inc.
Star Gem, Inc., an inhouse Targem studio, was established in 2011 by game industry veterans, with the goal of bringing high-quality online entertainment to players worldwide. Star Gem is dedicated to the creation of the cutting edge Sci-Fi Action MMO Star Conflict. Official website: http://stargem-games.com/
26 April 2018