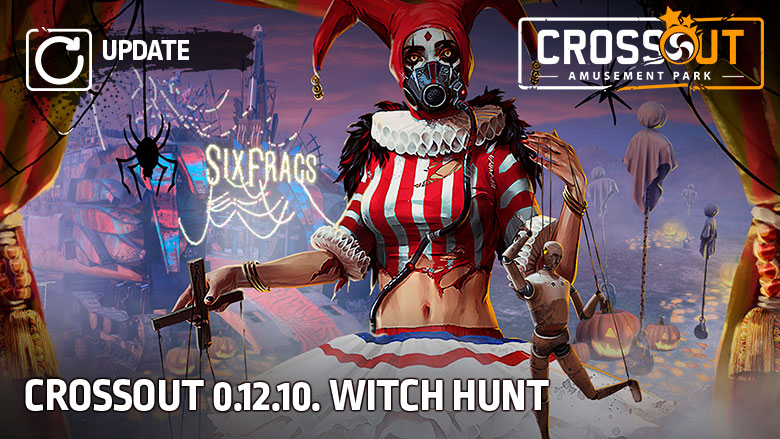 Targem Games and Gaijin Entertainment announce the release of the 0.12.10 "Witch Hunt" Content Update for the post apocalyptic vehicular combat action Crossout. Players earn Tricky treats in the Halloween events and exchange them for the unique theme park building objects, like pumpkins of all sizes, creepy metal spiders and ghost carnival rides, as well as new cosmetic items for their armoured vehicles.
The festive brawl "Witch Hunt" is an event where players use armoured vehicles with pre-installed boosters to catch and hold balloons as long as possible. There are also festive cauldrons scattered across the map that randomly buff or debuff those who touch them. For example, they can grant temporary invulnerability or invisibility or can slow down vehicles or even attach a ticking bomb to them.
The new "Phantom" DLC pack is also available for sale, giving access to a new armoured vehicle of the same name. This vehicle belonged to the legendary invisible driver known as Mirage. Some say he is a soldier who strayed from his squad, some think that he is a scavenger who disappeared under collapsed rubble. To meet Mirage is a bad sign among the survivors.
The Witch Hunt event will be available in Crossout until November 8th and the limited elite version of Phantom DLC will be on sale until December 13th.
28 October 2020